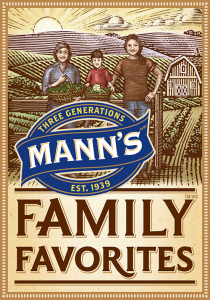 Mann Packing is located in Salinas, CA in the heart of America's 'salad bowl.'  Since 1939, we've been an industry leading supplier of premium fresh vegetables including commodity produce, as well as fresh cut veggie mixes, dishes and salads.
Committed to providing year-round availability of key crops, our farming operations 'follow the sun' and travel from the Salinas Valley to Yuma, AZ, Baja CA, Mexico and Guatemala each year to be 'in season with the season.'  We have strong relationships with the most progressive and knowledgeable growers in the industry, spanning generations with our company.  Our team of advisors work closely with growers, from seed variety, irrigation and integrated pest management (IPM), to training and fair treatment of laborers, harvesting and transportation.  We strictly adhere to the USDA's Good Agricultural Practices (GAPs) in every step of the supply chain.
Staying on the cutting edge of packaging and product innovation—and continually developing unique fresh value-added options to the marketplace—has made Mann's a regarded consumer brand. Being vigilant on food safety practices and compliancy regulations—as well as ensuring the most premium produce is available from us virtually year round—has made us a trusted brand among retailers.
Now in our third generation, we're honored and humbled to be celebrating our 75th anniversary in 2014.