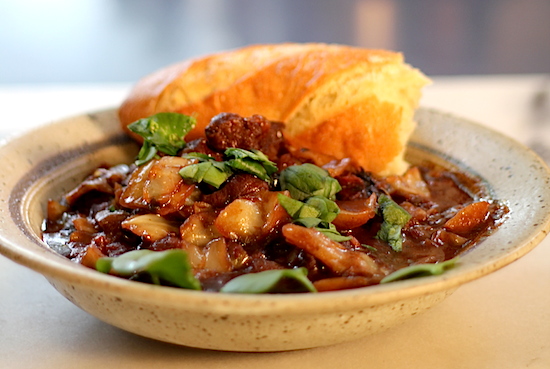 It's not a meat most people have hanging around, but life's short and it's about time you gave it a go. A hefty dose of bacon will ease you into it, along with some comforting stew standards like cabbage, garlic and tomatoes. Wild mint and nettle make the beaver feel at home in a tasty brown sugar, soy sauce and liquid smoke combo. As Art'll tell you, "You can't go wrong with smokey beaver."
Ingredients
Ingredients for soaking the meat:
• 2 lbs. (900 kg.) of choice beaver cuts (from back-straps or hind quarters)
• 1 cup (250 ml.) of vinegar
• 1 gal. (8 L.) of water
Ingredients:
• ¼ cup (60 g.) of butter
• 1 T. (15 ml.) of Canola oil
• 5 rashes of bacon
• 1 small onion
• ½ of a small head of cabbage
• ¼ cup (60 ml.) of soy sauce
• 2 T. (30 g.) of dark brown sugar
• 2 cloves garlic
• ¼ cup (60 g.) of wild mint leaves
• 1 cup (250 g.) of stinging nettle leaves
• 2 tsp. (10 ml.) of liquid smoke
• 1 organic vegetable, onion or beef bouillon cube
• 1 small can of stewed tomatoes
• ¼ cup (30 g.) of whole wheat or rice four
• 1 cup (250 ml.) of cold water
• 1 handful of miner's lettuce leaves
Instructions
Preparation:
• Before you begin cooking, make sure to soak the beaver meat in vinegar water for at least 5 hrs. ½ cup vinegar to 4 litres of water is a good ratio. You can also add 1 T. baking soda. This all helps to curb the strong flavour of beaver. After soaking, pat the meat dry and cut up into sizeable stew size chunks.
• Ahead of time, blanch roughly two stalks of nettle to give you 1 cup, remove the leaves and pat dry in towel. Cut up the blanched nettle leaves and set aside.
• On the day of cooking, preheat the oven to 350 °F (175 °C).
Cooking:
• Cut up the cabbage into rustic chunks and crush or slice up the garlic cloves.
• Add oil and butter to a heated skillet then add bacon until a nice sizzle is underway. Then add beaver chunks and fry over medium heat until beaver starts to brown (one option for thickening your stew is to drench the beaver meat in flour before frying but if you don't do this you can add a flour-water thickener at the end of the cooking process). Add onion and continue browning until meat and onions begin to caramelize.
• In a small bowl, stir together soya sauce, brown sugar and liquid smoke and stir into the frying pan.
• Add the cabbage, blanched nettle leaves along with the sliced or crushed garlic cloves and stir until all ingredients are well mixed and coated then transfer the stew into a roasting pan.
• Add stewed tomatoes and fresh mint and ½ cup (125 ml.) of water, stir well then place in preheated oven with a lid on the roasting pan. Bake for at least 1 hour.
• Before you remove the stew, If you did not drench your beaver meat in flour before frying, make a thickener by adding flour to ½ cup (125 ml.) of cold water and shake in a lidded container.
• Remove the stew from the oven and place over a burner at low to medium heat. Immediately remove lid and stir in the thickening mixture until stew liquid begins to thicken (about 2 mins).
Assembly:
• Ladle into serving bowls, garnish with miner's lettuce and serve with bannock or crusty bread.
* A ½ cup red cooking wine added just before the stew is placed in the oven is a nice variation of this recipe but you may have to cut the soya sauce in half as it could make it too salty.