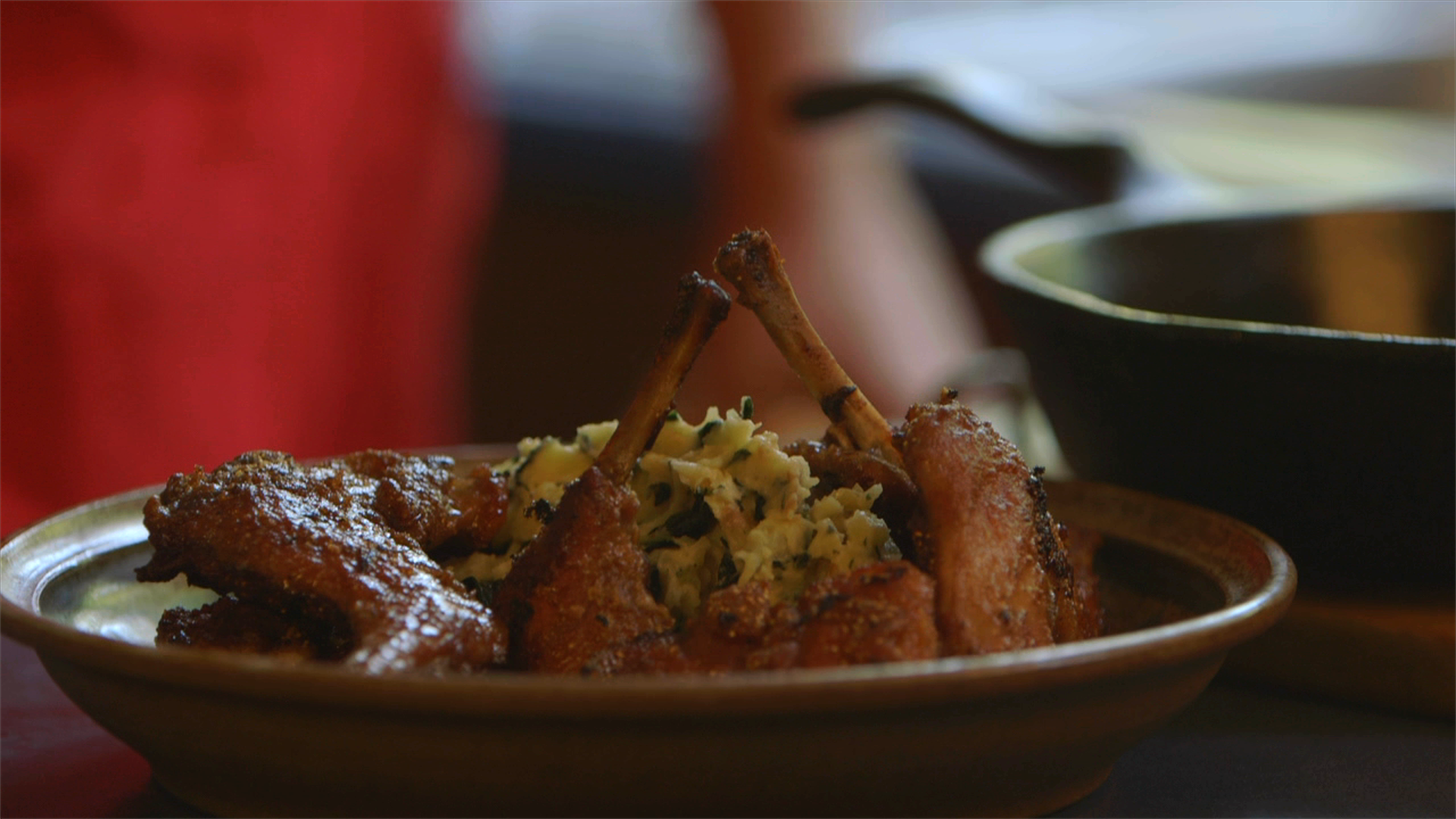 A country meal for a country boy! Art braises his coated squirrel to perfection! Matched with nettle mashed potatoes, this critter creation is sure to leave you happy and full.
Ingredients
Braised Squirrel Ingredients:
• 1 large squirrel fully cleaned & rinsed
• 2 T moose lard or high burning oil of your choice
• ¼ cup flour
• ¼ cup cornmeal
• 1 tsp cinnamon
• ¼ cup beef or vegetable broth
Nettle Mashed Potatoes:
• 5 med boiling potatoes (organic or from your garden is best!)
• Small pot of water
• 3 cloves garlic
• 2 T butter
• ½ cup milk
• 1 cup nettle leaves
• 2 T grated parmesan
• Salt & pepper to taste
Instructions
Braised Squirrel and Nettle Mashed Potatoes Instructions:
• Cut squirrel into pieces similar to chicken pieces ie legs, back etc.
• Mix together the flour, cornmeal, cinnamon (salt & pepper to taste) and dredge squirrel pieces until fully coated and set aside.
• Meanwhile cut the potatoes into quarters and bring to a boil.
• While spuds are cooking, heat oil in skillet and brown the meat on all sides.
• When meat pieces are browned to your liking, place a lid on the skillet leaving a space just wide enough for some steam to escape. If oil in skillet begins to run low, add a bit of the broth and allow meat to braise at a simmer for 45 mins until meat is tender.
• Heat up the milk in saucepan over med heat until it reaches scalding point then turn heat to simmer.
• Brown minced garlic in butter then add nettles & stir gently for 1 min until leaves begin to wilt. Turn off heat.
• Drain and mash the spuds then mash in the nettle-garlic mixture while adding in remaining butter and hot milk until the mash reaches the consistency you prefer.
• Stir in grated parmesan of cheese of your choice.
Assembly:
• Place the mashed goods in a heap on middle of a plate & surround with the braised squirrel pieces and serve while hot. Serves 2.