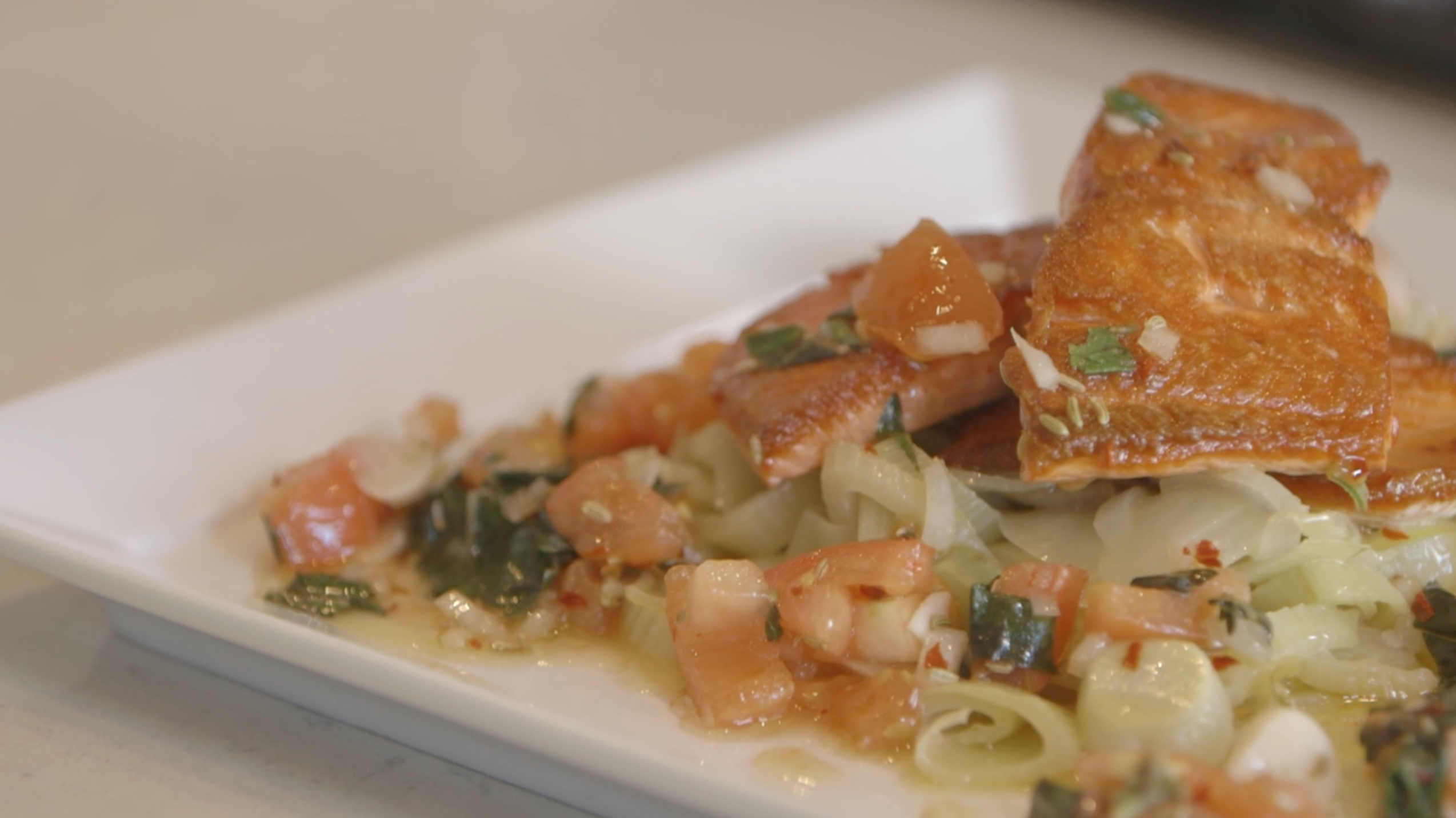 opcje binarne mlm Working with fish is one of Dan's passions, and it shows! Chinook is pretty darn good on it's own, but this brings it to the next level.
Instructions
Chinook Salmon with Braised Fennel & Sauce Vierge Instructions:
• Skin salmon and cut into 2 ½ inch portions (~150 grams) and season both sides with salt
• Place Pan on medium-high heat. Once hot, add 2 tablespoons canola oil, and place the salmon, into the pan, skin-side up. Let cook for 2 minutes on medium-high, and then flip over and cook another 30 seconds on other side.
• Prepare braised fennel by cutting 3 small heads of fennel into ½ inch dice, 1 medium onion into ½ inch dice, and the zest of 1 lemon.
• Place a large pan on medium-high heat and once hot, add 3 tablespoons canola oil
• Add fennel and onion and lemon zest and cook for approximately five minutes until starting to colour. Add 2 tablespoons butter and ¼ cup white wine, bring to a boil, and then lower heat to medium-low and let simmer until slightly reduced and thickened. Season with salt.
• For the Sauce Vierge: Slice 2 tomatoes into ½ inch pieces. Thinly Slice 2 cloves garlic. Finely dice ½ onion. Cut 10 leaves basil into thin strips.
• Add tomatoes, garlic, onion and basil into pan and add 3 tablespoon extra virgin olive oil, pinch of chili flakes and pinch of fennel seeds and juice from half a lemon. Put on medium-low heat and cook until tomatoes have slightly broken down, about 5 minutes.
Assembly:
• On the base start with the braised fennel, then add the chinook on top, followed by the sauce vierge.