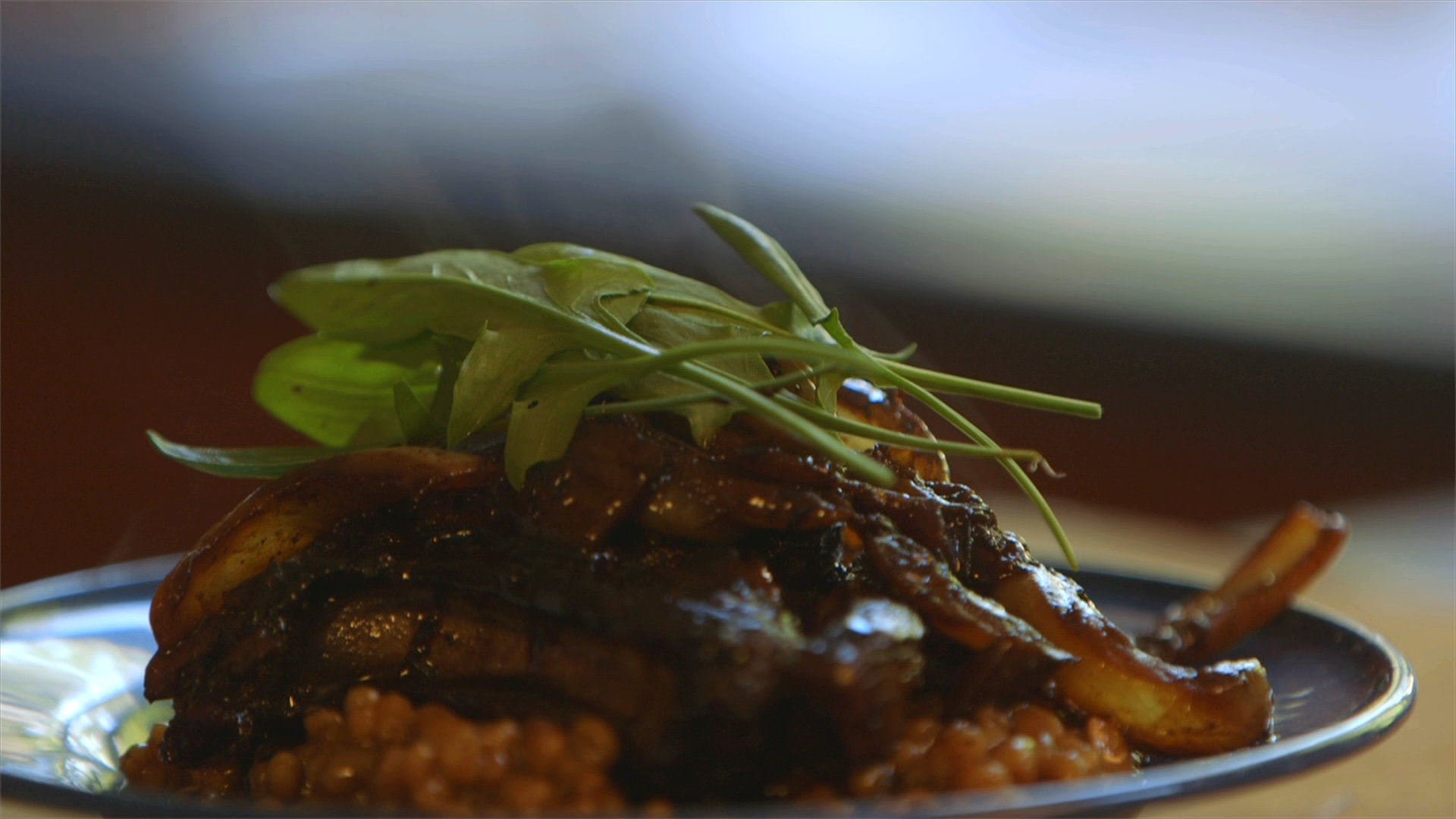 Roe Deer are spread over the majority of Europe, so Art has never cooked with one before. As they say "A deer by any other name or from any other part of the world still tastes really good!" OK, it's not a common saying. In fact the only person to ever say it was Art and that was one time. You get the point though. Art takes one of his favourite cuts and marinades it in a homemade sauce. Rested on a hearty serving of creamed barley and garnished with sorrel, this dish really does taste really good!
Ingredients
Roe Deer Rib Eye Ingredients:
• 2 rib eye steaks
• 1 handful thyme
• 1 T moose or bear lard
• ½ cup chopped onion
Marinade Ingredients:
• ¼ cup red wine
• 1 T Worchester sauce
• 2 tsp liquid smoke
Creamed Barley Ingredients:
• ½ cup pearl barley
• ¼ cup white wine
• 1.5 cups chicken, beef or deer stock
• 3 cloves minced garlic
• ¼ cup minced onion
• 2 T canola oil
• 2 tsp. butter
• Handful sorrel leaves
• 1 tbs. grated fresh parmesan
• Salt & pepper to taste
Instructions
Marinade Instructions:
• Place all marinade ingredients into a large sealable storage bag, massage liquid into the steaks & marinade in fridge for min of 3 hrs
Creamed Barley Instructions:
• After 2 hrs, heat oil in skillet over medium heat & stir in barley to coat each grain
• Stir in minced onion & garlic and fry until onions are translucent
• Stir in wine & bring to slight boil
• Add ½ cup of the heated stock & bring barley to slight boil
• Continue stirring in heated stock as barley begins to dry out, allowing it to cook for 40 mins until grains have become soft & swollen (it should triple in size)
• When barley is of a porridge like consistency add 2 tsp butter & grated fresh parmesan & stir until creamy
Roe Deer Rib Eye Instructions:
• Melt lard into heated skillet, toss in the thyme then add the steaks
• Ladle some of the oil from the pan over the steaks & when the bottom of meat is cooked to your liking, turn steaks over & add chopped onion, cooking only until onions are caramelized
Assembly:
• Dish out the creamy barley, place rib eyes on top & drizzle the onion mixture from the skillet over top
• Top off with sorrel leaves & serve while hot or it will become cold. Serves two.