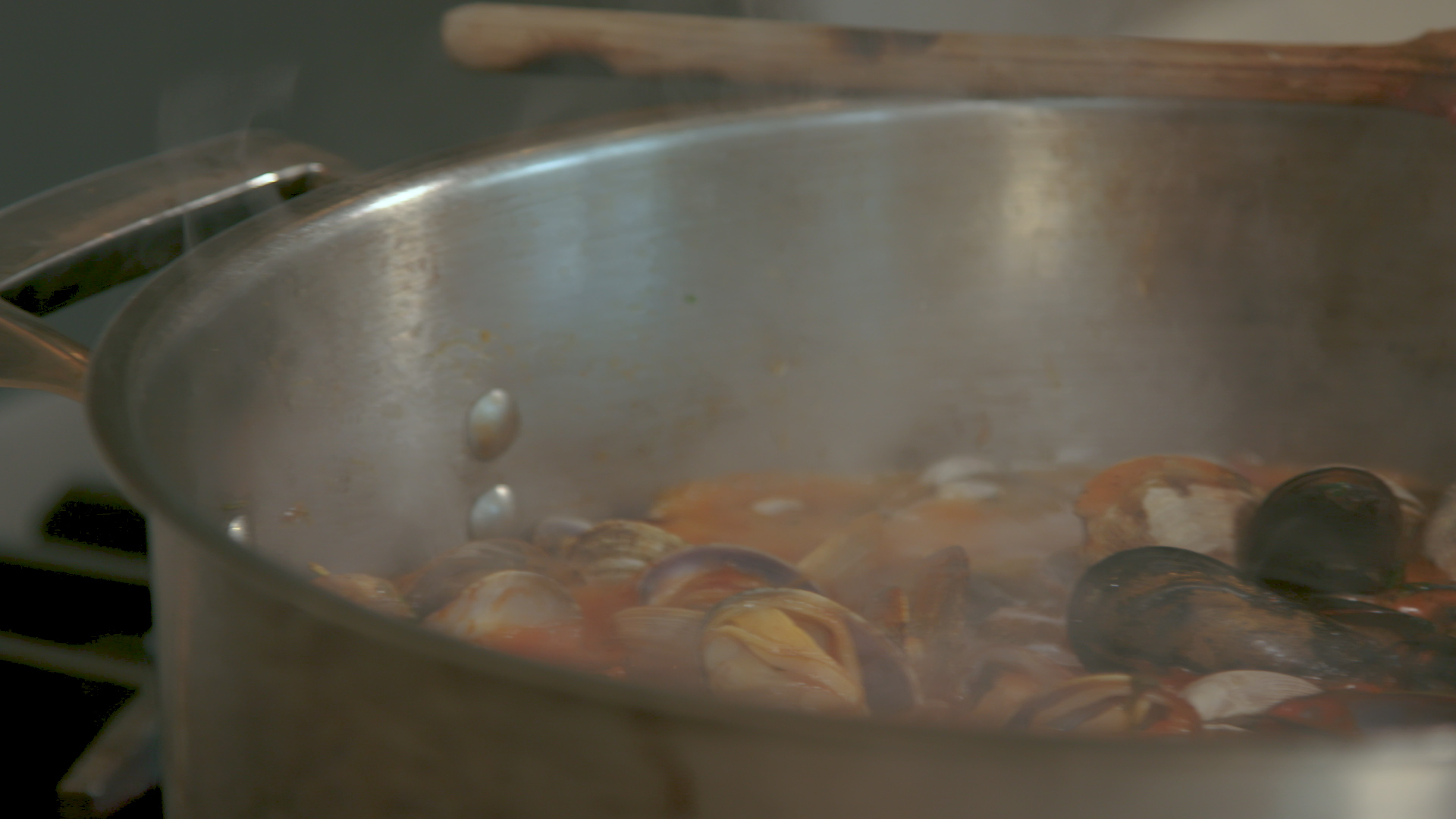 Everybody loves a warm, flavourful stew. This paella-inspired dish uses fresh fish and colourful veggies and is well worth the wait.
Ingredients
Seafood Stew Ingredients:
• Olive oil
• Leeks
• Onions
• Fresh tomatoes
• Red pepper
• Saffron
• Yukon gold potatoes
• Bay leaves
• Parsley
• Fresh thyme
• Cuttlefish
• Pre-boiled octopus
• White wine
• Paella stock
• Crushed tomato
• Rockfish
• Mussels
• Clams
Instructions
Seafood Stew Instructions:
Method:
• Heat a large frying pan or pot on medium-high heat
• Add a quarter-cup olive oil
• Roughly chop 2 leeks, 1 red onion, 2 fresh tomatoes, 1 red pepper and add to the hot frying pan
• Add a large pinch of saffron, a large pinch of salt, and continue to cook
• Add 3 large yukon gold potatoes, cut into large wedges
• Add 3 bay leaves, 1 large bunch fresh thyme, 1 small bunch parsley, stalks included, chopped fine and cook together for 1 minute, then stir.
• Now add your seafood: 1 large piece cuttlefish, 2 cups cooked octopus, cook 1 minute
• Add in glass of white wine and cook for 1 minute
• Add in paella stock (see recipe attached)
• Add 2 cups crushed tomato and cook 1 minute
• Add 1 rockfish, head and guts removed, cut into 10 small pieces, and 1 pound each mussels and clams
• Do NOT stir at this point otherwise the fish breaks up, as opposed to staying in whole pieces
• Continue to cook until the shellfish have opened, and the rockfish has cooked, about 5-8 minutes.
• Serve while still hot
Paella stock:
• Note: This will yield more stock than you need. Don't try to make a small amount of stock – with your extra stock you can make soup, freeze it for later use, give it to your neighbour.
• Put the following ingredients into a large pot, cover with water, bring to a boil and then simmer for 1.5 hours
• 2 lbs ling cod or rock fish bones & heads well washed and gills removed
• 2 lbs of crustaceans heads and shells (lobster, prawn, crab etc..)
• 1 head garlic cut in half
• 2 cups crushed tomatoes
• 4 fresh tomatoes, roughly chopped
• 2 sticks (not heads) celery, roughly chopped
• 2 white onions, peeled and roughly chopped
• 2 cups white wine
• 10 sprigs fresh thyme
• 2 fresh bay leaves