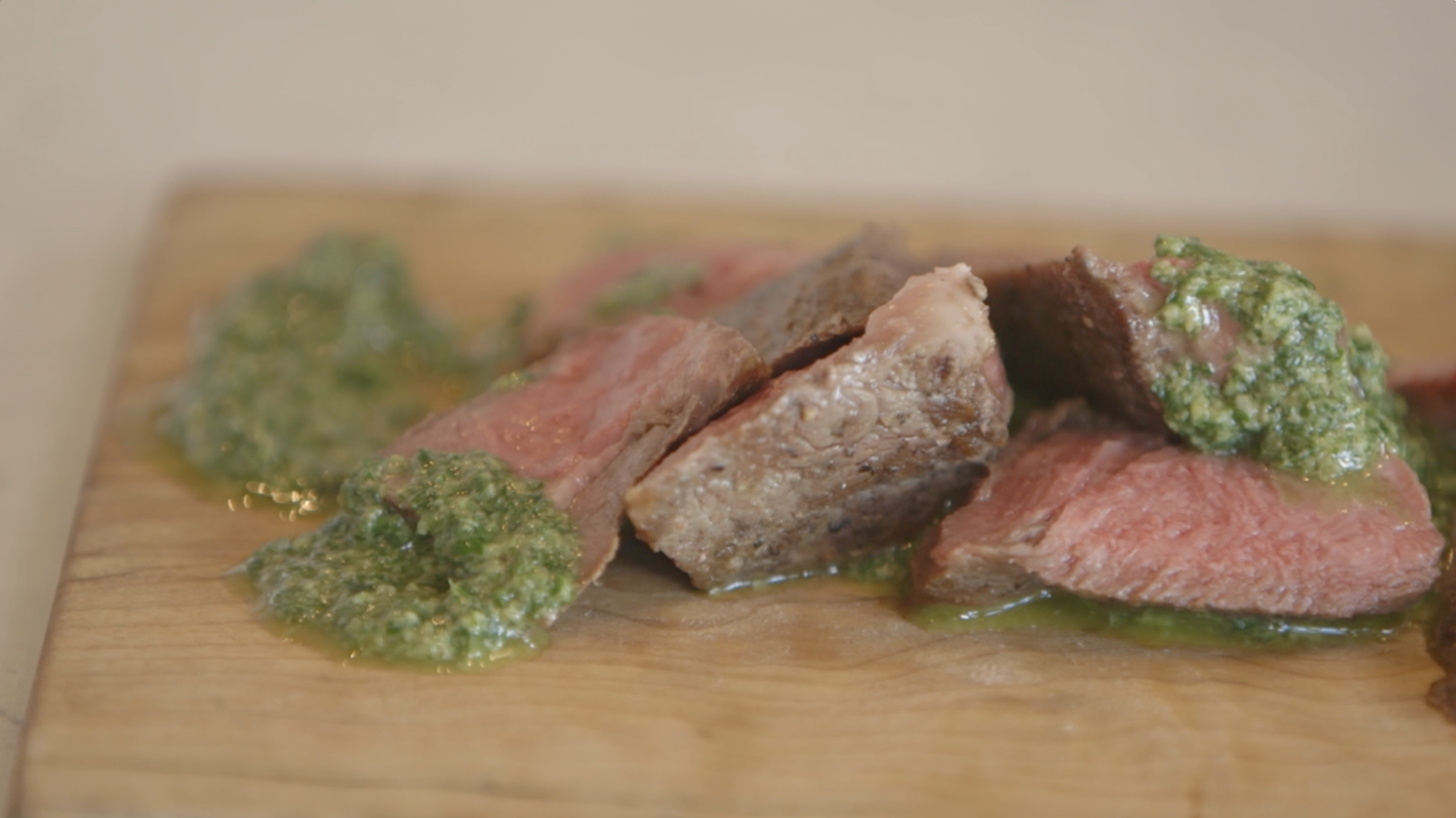 If you have a great cut of meat, there is no need to do much with it. Add the meat to heat, then add a little salsa to go with it! Quick. Simple. Savoury.
Ingredients
Skillet Grilled Elk & Tuscan Salsa Verde Ingredients:
• 3 lbs. elk
• 2 packs green onions
• 1 bunch cilantro
• 2 bunch parsley
• 1 bunch mint
• 1 tsp Dijon mustard
• 1 T capers
• 4 anchovy fillets
• 1 large yellow onion
• 2 garlic cloves
• 2 fresh red chilies
• ¼ cup canola oil
• Olive oil
• Salt & Pepper
Instructions
Skillet Grilled Elk & Tuscan Salsa Verde Instructions:
• Get large skillet on high heat until smoking.
• Cut elk backstrap (or other lean cut: tenderloin, leg) into ¾ inch steaks. Season thoroughly with salt and pepper.
• Good 2 second glug olive oil into pan, and then add elk steak. Leave to cook approximately 4 minutes on one side until well-browned.
• Flip the steak and continue to cook another 4 minutes. Add more oil if needed.
• Salsa Verde: If using an immersion blender, place following ingredients into a high-rimmed bowl. Or place all ingredients into a blender: 2 bunches parsley, 1 bunch mint, 1 teaspoon Dijon mustard, 1 tablsepoon capers, 4 anchovy fillets, 2 cloves garlic, ¼ cup canola oil. Blend until combined. While blending, drizzle in ⅓ cup olive oil. If needed, add a splash of water to reach a consistency that is spoon-able.
Assembly:
• Slice steak against grain, and spoon over salsa verde.