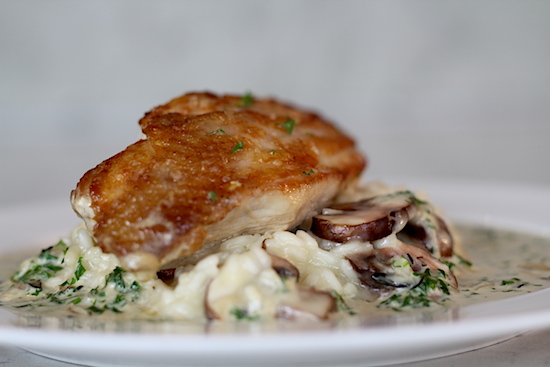 Dan's a pheasant man. Here, he's created a wonderfully chewy mushroom risotto topped with a pan-fried pheasant hen breast and surrounded by a light cream sauce.  Using a simple brodo that Dan recommends making in advance, this seemingly complicated risotto becomes surprisingly straightforward with Dan's expert guidance.
Ingredients
Stock Ingredients:
• 2 whole cock pheasants
• 1 large onion, thickly sliced
• 2 large carrots, coarsely chopped
• 1 large celery stock, coarsely chopped
• 1.25 gal. (5 L.) of cold water
• 1 tsp. (5 g.) of salt
• 10 button or cermini mushrooms
• 6 fresh parsley sprigs
• 2 dry bay leaves
• 6 fresh thyme sprigs
• 1 cup (250 ml.) of dry sherry
• 10 whole black peppercorns
Risotto Ingredients:
• 3 large T. (45 ml.) of butter
• fresh pheasant stock
• ½ of a white onion, finely diced
• 1 cup (250 g.) of Arborio rice
• 4 T. (60 ml.) of olive oil
• ½ cup (120 ml.) of white wine
• ½ cup (50 g.) Grano Padano or Reggiano Parmigaino, grated
• salt and pepper
Wild Mushroom Ingredients:
• 1 ½ lbs. (460 g.) of fresh wild mushrooms (such as porcini, chantrelle, oyster etc.) cleaned, quartered or ripped, depending on the mushroom
• 1 T. (15 g.) of butter
• 1 T. (15 ml.)of olive oil
• salt and pepper
Pheasant Ingredients:
• 4 hen pheasant breasts, skin on
• leaved from one sprig of rosemary
• 1 shallot, sliced
• leaves from 5 sprigs of fresh parsley, finely chopped
• 1 cup (250 ml.) of heavy whipping cream
• ½ cup (125 ml.) of white wine
• ½ cup (125 ml.) stock
• 3 T. (45 ml.) Canola oil
• salt and pepper
Instructions
Stock Preparation:
• Put all of the ingredients in a large pot and simmer for 4 hours. Strain and reserve.
Cooking the Risotto & Mushrooms:
• Ensure the stock is hot and in a nearby sauce pan. Sweat the onions, olive oil, 1 T. of butter and a pinch of salt until soft and translucent. Add the rice and continue to cook, stirring for 2 minutes. Add the wine and allow for boil off.
• Pre-hear a large frying pan on high heat. Add prepped mushroom, followed by butter, oil, salt and pepper. Sautée for 1 ½ minutes and reserve.
• Add in the hot stock, ladle by ladle and stir continuously until the rice is al dente. Rapidly stir in the remaining butter and cheese, and fold in the mushrooms.
Cooking Pheasant:
• Pre-heat a large frying pan. Ass oil and breast, skin side down. Allow to cook for 5 minutes on one side. Remove the breast and set aside. Add rosemary, sliced shallot, stock and wine. Deglaze the pan shaking well. Add the whipping cream and allow the sauce to reduce by ½. Turn the pan off and add the pheasant breast back in, skin side up. Cook in the residual heat for 2-3 minutes. Finish sauce with the finely chopped parsley.
Assembly:
• Plate the risotto in the centre of the plate and place the pheasant on top. Dress the plate with the sauce left over in the pan.