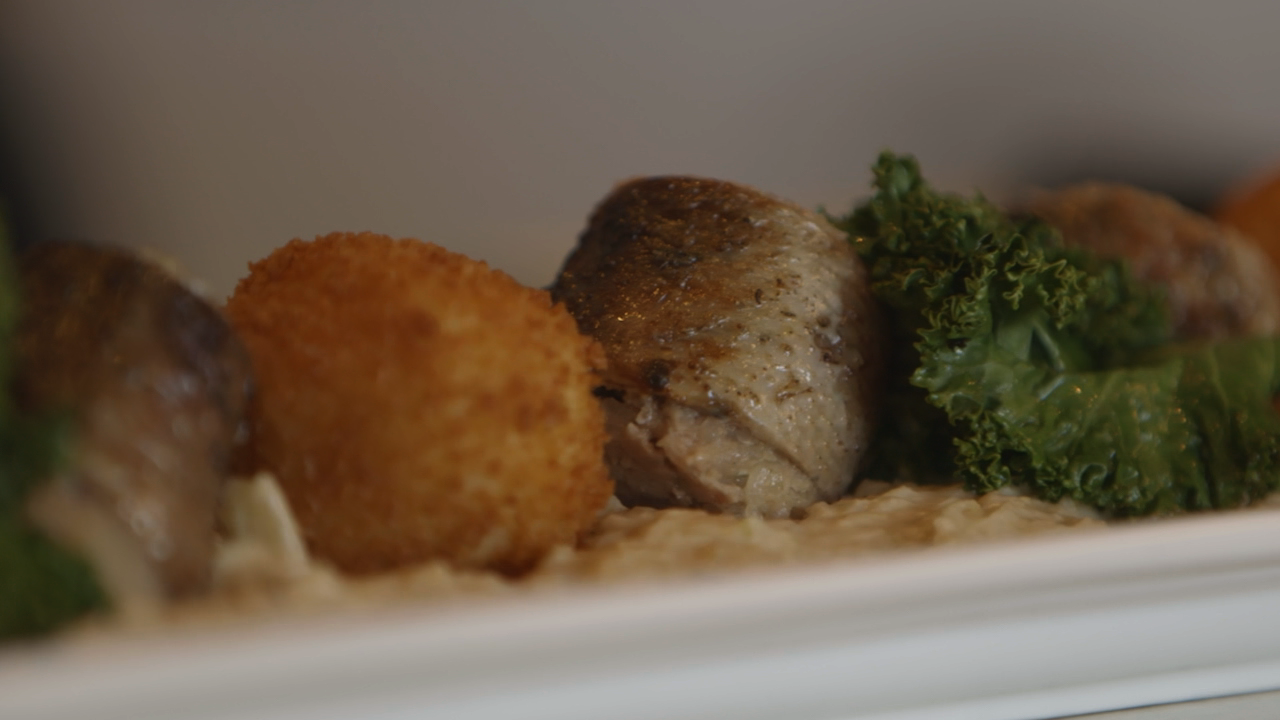 Let your taste buds explore the rich flavour of Tuscany with this unique dish. Not letting any part of the goose go to waste, Dan uses the neck of a goose as a sausage casing. Stuffed with pork, onion, butter, and salt and left to bake. This is truly the most distinct component to this dish. Complimented golden brown arancini and to bring some colour to the dish Dan adds sauteed kale in olive oil and covered in salt. All of which rests upon a bed of creamed leeks.
Ingredients
Goose Neck Ingredients:
• 1 Goose neck
• ½ lb pork
• ½ onion, finely diced and softened in butter
• salt
Arancini Ingredients:
• Cooled risotto
• Canola oil
• Panko bread crumbs
• Flour
• Eggs
• Milk
Creamed Leeks Ingredients:
• ½ onion, sliced
• 4 leek whites, sliced
• Butter
• Splash cream
Kale Ingredients:
• 1 bunch kale, prepped for cooking
• Olive oil
• Salt
Instructions
Goose Neck Instructions:
• Mix pork, onion and salt in a bowl. Stuff neck and tie with string
• Roast in a hot oven at 400˚F (205˚C) for 25 minutes
• Allow to cool slightly and slice into discs
Arancini Instructions:
• Roll cool risotto into balls the size of golf balls
• Coat with flour, egg wash (egg and milk) and panko bread crumbs
• Deep fry in canola oil until golden brown
• Season with salt
Creamed Leeks Instructions:
• Sweat leek whites in butter with onion
• Blend with splash of cream
Kale Instructions:
• Sautee kale in hot olive oil. Season heavily with salt.
Assembly:
• Start by spreading a base of the creamed leeks.
• Place your kale, arancini and stuffed goose necks as desired.