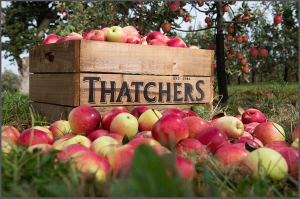 About Thatchers Cider
Out of a Somerset farming family has emerged one of England's most distinctive craft cider-makers. Formed in 1904, Thatchers Cider has grown from local farmhouse producer, to a fourth generation, family-led company widely respected not only for its expertise in cider-making, but for its ground-breaking orchard management, its commitment to sustainability, and its steadfast belief in all that is great about Somerset cider.
From its century-old oak vats to recipes that have been passed down over the generations, Thatchers sticks to what it knows to be right.  But the company isn't afraid to move with the times either, and has gained a well-deserved reputation for innovation.  Thatchers' master cider-makers craft a complete range of bottled and draught ciders, from fresh, vibrant and modern, to traditional, vintage and speciality.  Brands include:  Thatchers Gold, Katy, Thatchers Rosé, Vintage, Cox's, Green Goblin, Pear, Heritage, Traditional, Thatchers Dry  and Cheddar Valley.
Management of the 360 acres of orchard under the Thatcher family's care is just as much a focus for innovation and quality as crafting cider itself.  Under the stewardship of company chairman John Thatcher, the orchards are home to continuous research and development – from joint work with the National Association of Cider Makers into 25 new apple varieties;  work with the Bumblebee Conservation Trust that will not only aid habitats but also help with pollination;  to the development of new orcharding techniques and a revolutionary tri-modular harvester/pruner/shaper.  Over the last two years over 100,000 new apple trees have been planted in Thatchers' Somerset orchards.