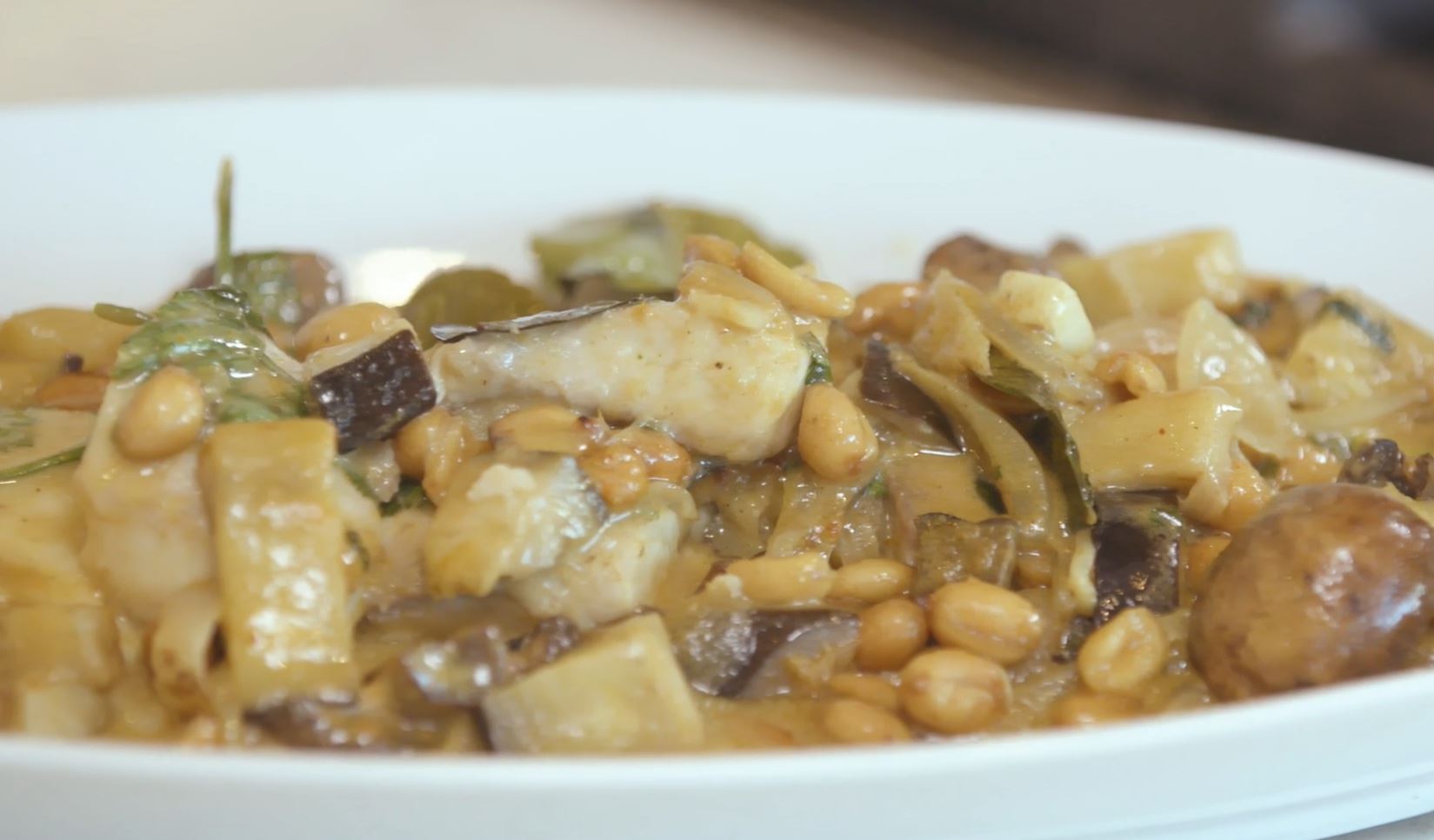 This recipe comes with a Sturgeon General's warning: Dish may cause excessive salivation.
Ingredients
• 1 ½ lbs sturgeon, skinned and boned
• ½ medium onion, sliced
• 4 cloves garlic, sliced
• 1 eggplant, chopped
• 1 tablespoon curry paste (green for spicier, red for more mild)
• 1/3 cup roasted peanuts
• 5 kaffir lime leaves (fresh is best but dried work as well)
• 6 mushrooms, quartered
• 3 cups coconut milk (if only using thick coconut cream, use 2 cups of that along with 1 cup of vegetable stock)
• Small bunch of cilantro, chopped
• 1 lime
• ½ teaspoon palm sugar (brown sugar is fine substitute)
• Canola oil
Instructions
Heat a large frying pan or wok on high heat. Once hot, cover the pan with a thin layer of canola oil and add sliced onions and a generous pinch of salt. Fry 2 minutes until fragrant.

Add eggplant, peanuts, garlic and curry paste and cook 2 minutes, stirring until curry paste is broken apart and coating the rest of the ingredients. 

Add mushrooms, kaffir lime leaves and coconut milk (is using stock, add that now as well) and bring to a low boil.

Nestle your pieces of sturgeon into the pan and cook 1-2 minutes, until fish has started turning white around the edges. 

Add cilantro, palm sugar and the juice of ½ a lime. Cook another 30 seconds or just until the sturgeon is white and cooked. Adjust salt if needed, then serve with a bowl of jasmine rice!